Sunday afternoon after the toiling week at work, I was relaxing on my lazy chair with a cup of coffee in hand and a big fat book in hand. From a very long time, I have been deceiving myself and my parents that this is what I like to do on my holidays. But I couldn't take the boredom anymore, I couldn't take the pain of leading a lonely life anymore. I definitely deserve a better life than a 9 hrs of monotonous sick job, 3 hrs travelling in Bangalore traffic and then a pathetic weekend at home, doing nothing!
I am 29 and soon I am going to be crossing my status of being an ELIGIBLE spinster. I am going to be in my 30s, the most dreaded number for a girl. By now, most of my friends and cousins have lived their half life and started with a new phase of mid-life crisis. And I am here, not even started my family life.
Not that I did not plan it for myself or didn't have the dreams of a normal family life as any other normal girl; It's just that fate had some other plans for me.
Immediately after college, when Aditya and his family visited our home to see me, I was pretty skeptical about the whole arranged marriage scene. I was excited, nervous, anxious, happy all at the same time. I had seen his photograph and quite liked it also. But photos don't speak and I wanted to speak to him.
We started with a casual hi along with a brief smile. There were no butterflies, no love at first sight, not even skipping a beat after meeting him. It was everything a first meeting between a prospective girl and guy would be. Discussing hobbies, interests, liking and talking about expectations from their ideal life partners and a little bit of awkward eye contacts while checking out each other.
Being from a progressive society we had some time to decide before we NOD for each other. A few more get together, a few more unofficial meetings to know each other better.
In a few meetings we were very comfortable with each other. The positive vibes which I got from him helped me, open up with him. We spoke for hours together and never had dearth of topics to discuss. He was always there for me. We had met
one month back, but it seemed like we were always together. There was no pretence; there was no hurry of falling in love. We went out with each other more often now, sometimes with his friends and sometimes mine.
He visited my house anytime and went to the kitchen and picked up a bite to eat. My Mom dad liked him a lot. He was everything a girl would have imagined in her life partner. At least I thought he is the one for me. Within 2 months, I was so used to him that I couldn't recollect how I spent my time before I met him.
I was dying to be with him and looking forward to spend my whole life with him now. But it was strange that my parents were not even interested in asking me for an answer. They had comfortably forgotten that we were not yet engaged. But as an Indian daughter, I could have not initiated the conversation myself, so I kept mum.
Aditya and I went for a lot of parties together and when he invited me to accompany him for his friend's engagement party, I immediately agreed to it. I could have not missed another chance to dress up for him and lure him one more time to fall for me.
So that Sunday evening, I dressed exceptionally beautiful and consciously for him. He told me that his best friend is getting engaged and he is like family to him. And even before we were formally labeled as family, his family had become very important for me. So I had to be at my best for that party.
He picked me up at 7 pm. I could make out that he was not able to take off his eyes off me. I liked every bit of attention he gave me and in fact for the first time he was not speaking and just looking at me. The rare view mirror was adjusted for a different purpose tonight.
The silence in the car was beautiful; I knew love is in the air. I knew we have started liking each other. We had never spoken about this love; we were not in hurry to do that. I thought he doesn't yet want to name this feeling, he is giving himself and me time to enjoy it without any name to it. I wanted to tell him I am ready to take the plunge. Ready to be in his arms. And I am determined to work this out with him. Amidst all these thoughts, the car stopped!!
We had reached a five star hotel where I could see the lawn is decorated with White and blue orchids and silver netted robes. It was beautiful and coincidently blue orchids are my favorite. The whole decor was classy and simple. I could sense unusual silence for a party. My first reaction was. "Ohh,, we seem to be too early for the party!"
Aditya did not respond to my reaction. He continued towards the lawn. There were few close friends of him, his family members. I greeted them with a smile. I was contemplating whether I should touch his Mom Dads feet or just be there. Then finally I touched their feet. They were ecstatic, i couldn't fathom why!!And what I see? My friends?
My family?
My MOM DAD!! I turned towards Aditya and he was nowhere. I couldn't see him anywhere. I went to my Mom and asked
"What are you doing here? Do you know his friend? Why didn't you come with us then?"
Mom started laughing. I was confused. What's going on? And suddenly I hear Aditya.
He comes next to me, gives me a reassuring smile and proceeds
"Diya, sorry to kidnap you like this and confuse you. I wanted to tell you something. Actually we all want to tell you something and ask you something. "
I was embarrassed and happy at the same time!
"My
Mom Dad want to get you home and make you family. Would you like to join us? "
Before I could reply he continued
" I am deeply and madly in love with you. You are the one I want to spend my life with. Would you like to be my life partner?
"
He was standing with a platinum love band in his hand. He had his parents, my parents and all our close friends at his side and they all waited for my answer desperately! I gestured Mom-Dad for their approval and it was a yes! I was almost in tears. I stretched my hand and uttered a YES. He came towards me, slid the love band in my ring finger and looked in my eyes. I hugged him and he exclaimed!!
"Am I allowed to be without the ring??" and everybody burst in laughter.
My Mom gave me the other love band and I slid that into his ring finger and warned him not to remove it ever from his ring finger!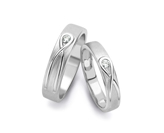 Everything came to a stand still for that moment. I was in love and I just got engaged to the love of my life. 2 months back I had no clue that Aditya existed and today my existence is unimaginable without him. That day I not only accepted my love for him but also started a new ever lasting relationship with him. It was a pure and divine. And
all our loved ones, blessing us with all their heart made it more special for both of us.
The whole family ganged up with Aditya to make this special for me. I could have never imagined that my PLATINIUM DAY OF LOVE would be so special. I still can't answer correctly when people ask me if I had a love marriage or an arrange marriage. I don't know how would a love marriage be different from the one arranged for me.
We were very happy together; we got married the same year and started our family life. We were very much in love. I had every reason to be happy and I was very thankful to God for choosing me. I was the blessed one;
Until I got the phone call that evening.
Aditya went for an official visit to Singapore for two days. I had spoken to him 1 hour back when he was about to board the flight. He was very happy and he was late to airport because he was shopping for a gift for me. He told me that I would be to be blamed if he misses his flight! But he didn't!
Wish he had missed the flight. Wish he was a little late to the airport. Wish I would have not let him go. I can only wish now. His plane crashed in the middle of sea. I have lost him…forever!
It was only 3 months that we had started our married life. We hadn't seen the ups and downs of life. We had not understood any vows of the knot. And he was gone!!
No goodbyes, no fights, no promises! I have not lost the love of my life, I have lost the reason for living.
Its 6 yrs now, and my heart is still beating. I am still alive for the world and the world has forgotten our love story. People say you can live with good memories, but you can only die every moment with memories. I am dying every moment and I know I have no right even on my own life. But now I am left with nothing more than his love band which he has forgotten on the bathroom rack while he hurried to catch the Singapore flight. And I am left with pain ,,,pain of memories!
This is a fictional story and has no resemblance to any real person or event.