Travelling around the world was one of the first vows I had asked my husband before marrying him. I have an undying passion for travelling and I want to make sure before I die, I have travelled at least half the world if not all. So, for fulfilling this passion, I make sure whatever happens, we plan at least one international and one national vacation in a year. It is done well in advance, in fact almost 8-9 months in advance with every possible thing pre-booked. From flight, to hotels, to sightseeing tickets to taxi hire. Everything is pre-booked so that we have to just go and enjoy the vacation.
Me being the tech savvy and he being the banker, we have distributed the planning as per our forte. Budgeting, timing and logistics remains with the MAN and I do all the packing (Mammoth task with a 4 yr and a 2 yr old indeed), head hunting, summarizing and itinerary.
Have you heard of the 4 Ps in marketing which needs to be considered for any successful project? They are Product, Place, Price and Promotion. My vacation planning being a very important project (for me), I apply the 4Ps model for a smart vacation planning and here goes DIPTI's VACCATION PLANNING CLASSES:
SMART LOCATION SHORT-LISTING (P
lace):
The foremost decision of any vacation is the PLACE where you would like to go on a vacation. Being a married, working, mother of two hyperactive tiny tots, I have more tourist places blacklisted than white listed.
I can't take long flights because it's impossible to travel for 18-20 hours with tiny tots. I can't go to non-English speaking countries on a self-travel itinerary. South Africa would have restrictions for kids and Australia/NZ is too far. Tourist friendly, Asian countries are more or less done. So we boiled down to Europe this time.
Europe is considered to be the most picturesque and romantic location for a vacation. France, Italy, Spain, United Kingdom, Belgium, Netherlands, Tunisia, Austria and Liechtenstein, every destination is in itself a great expedition. And though I plan to visit all of them at some point of time, I am restrained by time and budget for this time. I never get satisfied with a hurried travel and hate to run from one place to the other. On my vacation, I like to revisit some places and also sometimes just explore the town on my own to find out the treasures which are undiscovered or less known. So after a lot of deliberation with my better half, we decided the two most beautiful countries in Europe - Switzerland and France.
SMART PLANNING (P
roduct, Price, Promotion)
Vacation planning is the most crucial and fun part of any vacation. With so much information present on the web, it has almost become like ROCKET SCIENCE to extract the useful information out of the junk. But with a little bit of smartness and few smart application and websites like SKYSCANNER you can master the art of vacation planning.
So I start with reverse engineering for the planning. I collect all the tour packages offered by those fancy Travel and Tour companies. Though going through a group package is the most carefree and economical option for a vacation, it doesn't suit my taste and my comfort levels. With two small kids, I don't want to get up at 5 in the morning and sleep at 12 am in the night. I can't feed them with bread and cheese all 10-12 days nor would I like to disturb their daily schedule much. So for me the brochures of the tour packages are a reference to the tourist attractions I need to plan and also how much time would I need in that particular city. In fact the tour companies also offer personalized travel packages as well, for people like me. But then they are prohibitively expensive and I feel it's the waste of the smart resources available on the internet if we cannot save that unnecessary expenditure even after being so tech savvy.
So the official tourist website swisstours.com, myswitzerland.com, theswissholidays.co.in came very handy when I was sorting the sightseeing list into MUST SEE, GOOD TO SEE and TIMEFILLER lists. Once I made this list, I referred the country's map, which are easily available on tourism websites.
The whole research I did helped me in short listing the airport I want to travel, the exact city and location I want to stay and also the sightseeing places I want to visit.
Now it was time for some ACTION!
I went to the travel website, put my travel dates and get the list of all airlines flying to the destination. The list had an option of sorting the list based on budget, timings, number of hops, etc. Gone are those days when you needed to go and find the flights on individual airline sites and then collate the data to suit your travel. With no hassle, I compared all the flight options for Switzerland, selected the best suited flight. I also had options to have different arrival and departure destinations.
There are pros and cons of various airlines with respect to time, number of hops, expense etc. You would choose what suits you best. If you are a backpack traveler, of course you would want to experiment with new/less preferred airlines for the mere factor of budgeting.
But I feel too old and wise to travel clueless, so I tried to get the best of both worlds. I went a little overboard on cost, but selected different arrival and departure destinations to suit my travel.
With constraints of packing unpacking often and carrying as little luggage as possible, I prefer to stay at one central location and then travel to all the places from there. In Switzerland, I figured with the help of the online SWISS MAP and the online Train connectivity that the best place to stay would be LUCERNE. It's centrally located and has a lot of options for service apartments and hotels.
It's amazing how you can smartly do the whole research, planning and also execution with smart websites/tools on your finger tips, sitting in the comfort of your home. You provide them the dates, the number of adults and children and the tentative location. The application not only suggest you the availability but also give you 1000 other options as per your requirement. You can sort it by budget, by stars of hotel, by proximity to the downtown, the proximity to public transport and few other filters.
I was thoroughly impressed how it provided a link for reviews of each hotel from renowned sites like Tripadvisor and Mouthshut. Reviews really help in filtering out the good out of the heap of hotel choices you get. Pictures of the room and facilities can be very deceptive at times, so it's always a good idea to read the reviews of the shortlisted places.
Also read about the usual norms in a particular place, like I was not aware of the breakfast types - Cold and Hot Breakfast buffet. I would have thought of choosing a hot Breakfast buffet as per our Indian tradition of serving hot fresh food but after a little bit of research figured that there are more edible things in a cold buffet than a hot buffet. So a little bit of research, can do a lot of good to you in your vacation.
Another good thing about smart booking is, you have all the discounts, perks, special offers displayed in front of you. There are options of selecting rooms with or without breakfast. Most of the times, Vegetarians like us end up eating two slices of bread and butter out of the whole fancy buffet breakfast displayed in the menu.
On website, I got the option of choosing Service Apartments also.
A very interesting thing about Europe is, you will get service apartment mostly for 7 days at a time. So whether you are staying for 1 day or 7, you pay the same amount. But service apartments work out best for families with kids. I can be rest assured, that I can at least cook and serve one proper meal to the kids if it's a service apartment.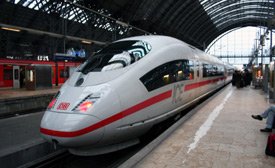 Train if the most convenient and best way to travel throughout Europe. Euro Rails are known for its picturesque views on the way and also for its convenience factor. Almost everybody in Europe travels by trains. And as a tourist I would be broke if I think of travelling in taxis like I do in Asian countries. So we had two trains to book, one from Paris to Lucerne and another a Swiss pass which would be valid in all trains, buses and some boats in Switzerland.
I wish I would have asked for something more that day. I logged in to book for the train from Paris to Switzerland and guess what? I got a deal of 70 % off on First class tickets. I got the first class tickets for the same price as the second class. And mind you, these offers are not available with any agent or on the spot buying. You get these offers on and off only on official websites of Switzerland. If I wasn't using the smart way, I would have never figured out these offers.
I also got the Swiss pass for travelling inside Switzerland for a very good deal. Children below 12 yrs are free on the Swiss rails. And there are few more discounts on sightseeing tickets when you are a Swiss pass holder.
What a perfect way to make sure people use the public transport; I think our country should learn few good things from them. Alas, we have adapted the not so good things alone.
SMART SIGHTSEEING BOOKINGS:
Imagine, if we can book our visit to TAJ MAHAL online? Or say booking for visiting the Udaipur palace online? Wow, it would save so much of a hassle for tourists. It will reduce so much of loot by local people and save India the shame which is attracted out of lobbying the foreigners.
But anyways, there is a long way to turn our India into Switzerland, so for now I concentrate on my vacation.
Right from Eifel tower to Mount Titlis, everything has a ticket and it can be booked 3 months in advance, ONLINE! You will again get combined tickets for few places at a discounted rate and some offers here and there.
I got the Disney land passes, Eiffel tower tickets, chocolate factory tickets, Mount Titlis tickets and few others online for a very good price indeed.
Now my 4 Ps are taken care. In theory, I am all set for a rocking project. Now it is time for the real action to start. You can expect a lovely long travelogue once I am back from my well planned vacation.
SMART TIPS FOR SWISS VACATION ASPIRANTS
:
Tools like SKYSCANNER can save your time, money and energy to 50%. SO BE SMART, BE A SKYSCANNER!!

Most tourist places have their official websites and it helps a lot to research a little before you plan your vacation. For Switzerland its

http://www.myswitzerland.com/en-in/home.html

Switzerland has a real-time transport help which gives schedules and route of all trains online. So use

http://www.sbb.ch/en/home.html

Service apartments are booked for 7 days at a time, so plan your trip accordingly

Travel very light as almost all sightseeing places is a full day journey. 3 hours one ways travel to almost any place by train

Look out for offers and combo packs for train tickets and sightseeing tickets, SWISS government promotes tourism like no other country so they have offers on everything from flight to sightseeing tickets

Lastly, do all your booking quite in advance for holiday season. From April to July, the hotels, apartments, flights and sightseeing tickets get sold out 3-4 months in advance

Online visa application can be done but mind yout it has a long list of documentation to be taken care off

Make sure you carry enough currency(CHF and Euros) with you because exchange rates on credit cards are always 20 % high than cash
This blog is intended to participate in the contest at
indiblogger.in
by
http://www.skyscanner.co.in