8 years of work in the IT industry and 96 paychecks which can get me all the material pleasures of this world can be easily outweighed by this single BLOGADDA Award which I have received today. Its true, that its never too late to start dreaming and following your passion in life. And this award signifies just that!
This is my first step towards realizing my dreams and it would always remain special to me. Ofcourse, I am enjoying all the limelight and all the accolades coming my way today. The blogger who had few hundreds of reader has suddenly been recognized by thousand of others. More than that, I am going to give my first victory speech of life! No prizes to guess, that before even winning this, I have already rehearsed it thousands of times earlier, infront of the mirror, in the bathroom, in the traffic, while coding ,while brushing and all the odd places one could have thought off. But today, I have forgotten all of it!! No ,,,really,,, I cannot remember any of those decorative language I so wanted to use for my VICTORY SPEECH.
And now the only saviour for me would be our very own GOD, the master blaster and inspiration for the whole country. Yes, SACHIN RAMESH TENDULKAR!! If it was not for him and his last speech few days back, I would have stood here dumbstruck, thinking what should I say on this ONCE IN A LIFE TIME MOMENT of my life? I would simply follow his foot steps and start by thanking the people who mattered, who actually encouraged me to get nearer to my dream, without whom I would have been still an IT porfessional, happy with her monotonus life and dragging herself every Monday to work just to wait for the next weekend to come. Yes, isint this true for all of us? Be honest!!
So I would definitely like to start with my parents. Its an irony of my life that I write mostly about my family(kids,husband,staff and parents) but my parents do not read me. They are not tech savvy and they dont read me often. But I am inherited by my Dads intellectual and Moms emotional genes, which makes a deadly combination I feel and helps me in writing things which touch the hearts.
Then I would thank my source of inspiration, my elder daughter Khushi for whom I actually started writing. The little witty answers, the innocent remarks from a 2 year old were to be cherrished for lifetime and so I started making a note of them. The personal diary of thoughts suddenly attracted alot of readers and hence my journey as a blogger started. The journey continues with my little daughter Avani, who is not less than an angel in my life.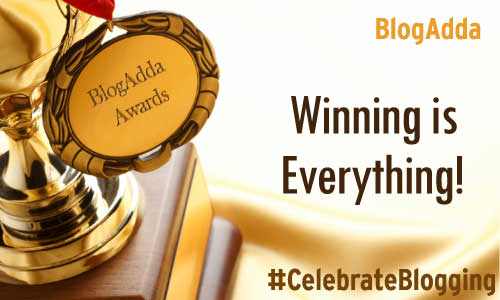 And the most important person who encouraged me, who appreciated and criticized all my writeups is my husband. I would have never thought that those words were of any worth apart from my personal memories. But Ashish knew I have the gift of words and he motivated me to write. He has not only made my life beautiful but he also gave wings to my dreams. He still is behind my life to leave my job and become a full time writer. He sees a J K ROWLING in me :P.
Another person who has been instrumental in my journey is a colleague and a friend of mine Maneesh. We all know alot of things, but that one trigger which really changes your life forever is always special. My 16 k mails to my friends and family and a bit of rhyming here would have lost in the darkness if Maneesh didnt introduce me to blogging.
Its weird but I have a list of innanimate objects also in my list.I would be thankful to is BLOGGER.com, Blogadda and Indiblogger. I would have never made it to the wall of fame if I didnt have my very own BLOG SITE and been introduced to the wonderful world of blogging by these blog sites.
We usually remember the explicit things in life, but today I want to enlist an implicit person who was instrumental in my success. My ENGLISH teacher, Miss Chandrika. Coming from a small place where speaking in English and being good in english calls for alien looks from others around, our English teacher made her sincere efforts to inculcate those basic things in English like grammer, vocabulary, diction, expression etc in us. Rightly said by a great philosopher Aristophanes "By words the mind is winged". And those words were given to us by our teachers.
My extended family, my friends, my fellow bloggers, my critics everybody has shaped me as a good person and possibly a good blogger. I am greatful to everyone around me. Some bit of influence has been caused by my city, my society, my house, my surroundings, my country. The trivial things which I observe around me gives me energy and ideas to express.
I am very happy that in less than one year I have become a recognized blogger. We bloggers write for being read. We want to read and be read by others. Getting a prestigious award like BLOGADDA AWARDS gives not a window but full sky of possibilities to be read, to be connected with like minded bloggers. It means a world to me. The joy is equivalent to giving birth to your child as with each day you get attached to your writings as much as a child. You want it to grow, you want to to succeed, you want it to flourish!!
I would like to receive this prestigious award from the hands of CHETAN BHAGAT. He was the first writer I read and his simple words and direct speech enlightned me that only big words and decorative language doesnt make a good read. Any TOM DICK AND HARRY can express and its not the words but the expression which matters.
I would like to revamp my blog site. It should shout DIPTI DIPTI DIPTI everywhere. Not by my portfolio photos or name, but by my personal touch. My thoughts, my writeups, my wins, my vision, my motive of blogging should be visible to anybody who visits it even once. It should be my identity and customized as per my persona. It needs a huge amount of thinking and execution to change my blog into my identity as what started as a hobby needs a makeover to be my passion.
I would definitely like to go out and indulge in the sinful DEATH BY CHOCOLATE which gives me equivalent if not more, HIGH than writing.
I would like to celebrate my victory with my family. Would like to go to my Mom's place with my husband and kids. I want to read out all the blogs to them and tell them how much my family means to me.
Thank you BLOGG ADDA to make it possible. When I make it BIG, I will definitely owe it to you also and will not forget you in my VICTORY SPEECH then :)
This would be My Winning Speech on being rewarded the
BlogAdda Blog Award!